Most often we are asked a question that why do we use Bluetooth to control the car? The answer is simple and straightforward.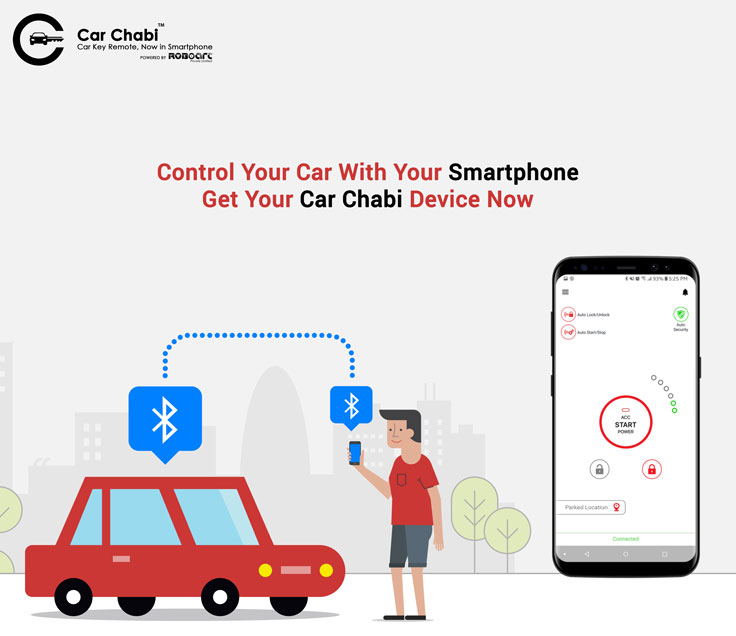 Bluetooth is secure:
It is a common misconception that Bluetooth is not secure. But with the advancement of technology, Bluetooth is very secure thanks to Texas Instruments. We use the best Bluetooth module present in the market. Actually, it is the same modules that Tesla is using in Model S.
Multiple password protection:
Car Chabi makes sure that your car is secure. There are two keys that you will use. Master key and the Regular Key. The owner of the car has the access to Master Key. And using the Master Key, an owner can set and change the Regular Key.
If anyone wants access to the car, the owner can share the regular key. As the Regular key is for the user, the owner can change the regular key whenever they like.
Bluetooth is Efficient:
We at Car Chabi, want to make sure that you are provided the best solution. This is why we used Bluetooth to control the car. Bluetooth is efficient. Because of the data loss in Bluetooth in minimal. Most importantly, we have perfected our module for your needs.
As we have been working with Car Chabi for more than 3 years. We have made Car Chabi device according to your needs.
Additional security layer:
We know that security is your major concern. This is why we have added security layers which make sure that your car is secure when you are not around. The data being sent from your phone to the Car Chabi device is encrypted, therefore you need not to worry about the hacking of your car.
Least chance of hacking:
There is no internet connection in the device. It is not available for any hacker. This is the reason, we say that it is least susceptible to getting hacked. There is no remote access or backdoor to your car, so you can sleep and count on us for the safety of your car.