Car Chabi is undoubtedly a Bluetooth based Universal Car Access Module. As Car Chabi is compatible with 95% of cars in the market right now.
Bluetooth Based Car Access Module
Why do we use Bluetooth to access the car? The reason behind using Bluetooth is simple. You can get more information on this topic in our blog. The PRO module for car access is the best solution for any car sharing or a rental company. Our device allows two most important features for them. We provide access and security for the cars.
Car Access Module Pro is also known as Car Chabi. Mobokey is the platform which is used for the sharing your car whereas Car Chabi provides access and security to the car. Our device is designed while keeping the necessities of these companies in foresight. We provide a complete platform, which gives the company owners the following:
Access with the Company owners
Following are the access points that can be used to control the car.
Location of the shared
Updated location after 1 min
Remove access at any point
Increase the time at any point
Increase the access level at any point
Install the device in your car
Download the app for PlayStore or AppStore
Sign up on the app
Claim Ownership of the car
Enter the pairing key
Share the car to the user using email id
Set time and access level
Above stated are the steps to share the car using Mobokey, which is our car sharing platform.
These steps are further explained in this diagram below.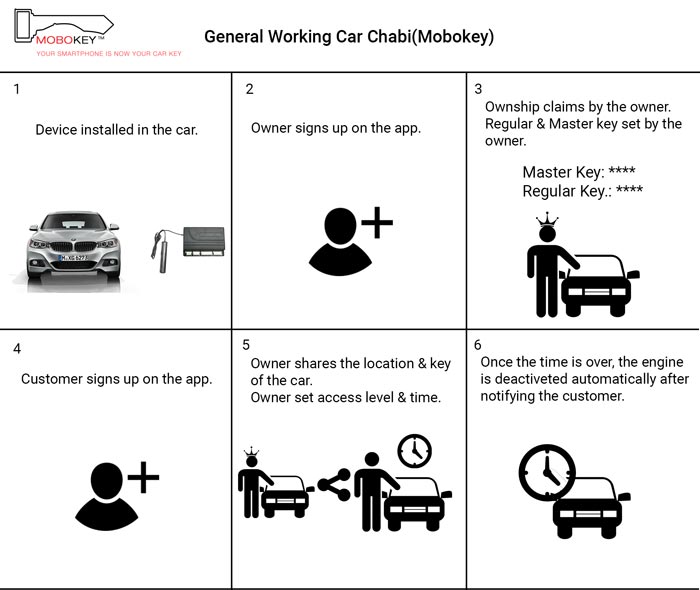 The image above explains how Mobokey works. It is really easy to use. It is very easy to share the car using Mobokey. You can also visit our Youtube page to see how easy it is.
We understand the need for car sharing and this is the reason we are using Car Chabi and Mobokey.